Quicker than the "Quickie"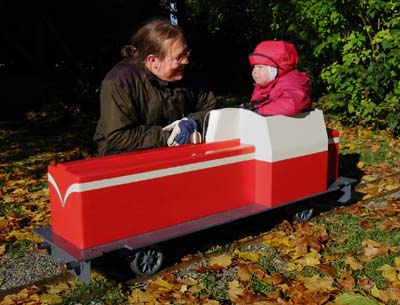 Veijo Kivipelto, who's been building a 2-8-0 for a couple of years now, decided he wanted something his daughter could run right away. So, in just two weekends, he has built a battery-operated "diesel", similar to my "Quickie", but larger, more to the correct 1:8 scale. So far, it is only half finished, much cosmetic detailing is missing (such as windows and railings), as well as some adjustments still needed in the drive mechanism...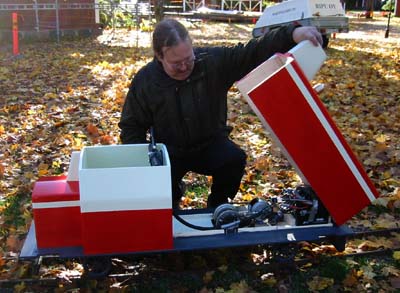 ... which is based on the electronics & motor from a kid's electric scooter...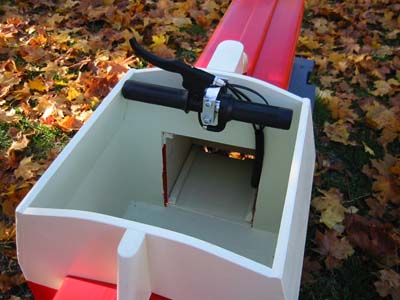 ... even to the point that the scooter's controls are transferred straight into the cab! Of course, this will be changed in time to more loco-like controls, but you can't do everything in just two weekends!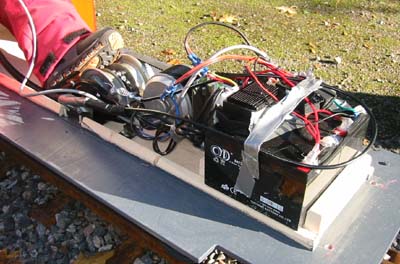 Here's a closer look at the mechanics and electronics under the hood. The system includes two 12 V 12 Ah batteries, electronic speed control, two relays for direction changing, and a cable-operated brake that also cuts the power to the motor.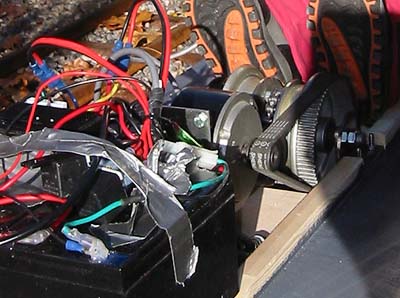 Another view of the drive. The motor has a 9-tooth gear, the other gear is a 72-tooth. Then there's a chain drive to the front axle, using 18 & 22 tooth gears - the chain can barely be seen between the flanges. A chain will be added to drive the rear axle, too. The total reduction with these gears is just about 1:10, resulting in a safe & comfortable max. speed of around 6 km/h (4 mph).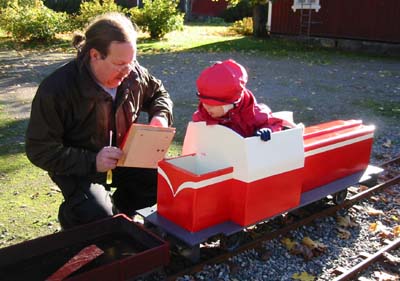 Daddy has a little secret compartment of his own, where he can hide a sixpack of beer, so don't tell mommy!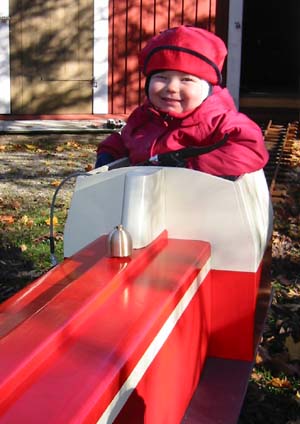 Maria, now 2.5 years old, is clearly enjoying what daddy has built, just as she enjoyed running my own "Quickie" just a few short months ago. This lady is a real loco engineer!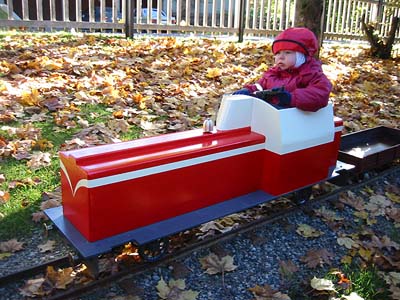 She handles the controls expertly!

I had built a couple of new low-side cars during the past week. Here they are in my workshop, waiting for the paint to dry. I tested them for the first time by coupling them after Maria's loco.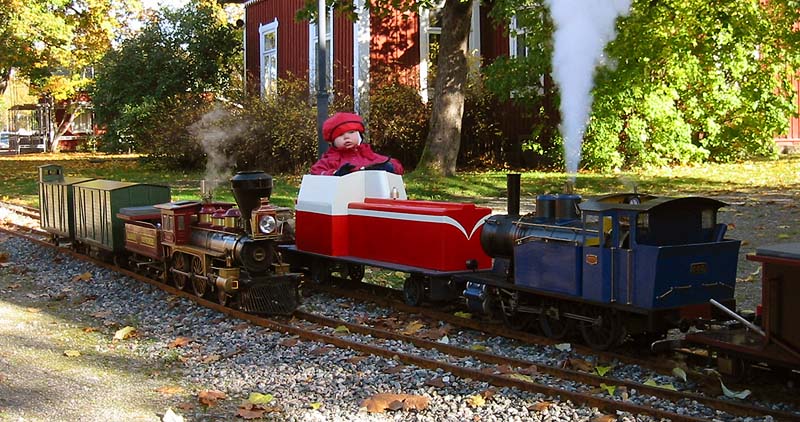 Above, a young lady engineer among hissing, steaming locos on the Hyvinge RR Museum's track this cold, but beautiful fall Sunday.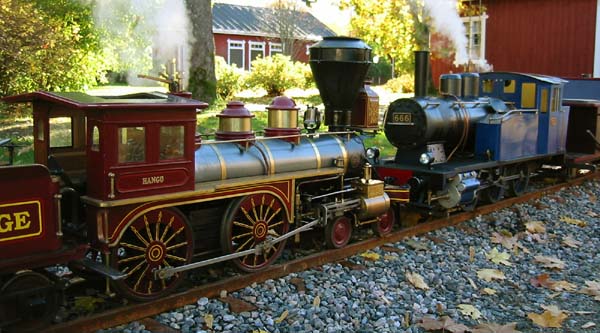 Today was the first time I had the 3003 and the 666 "touching pilots"!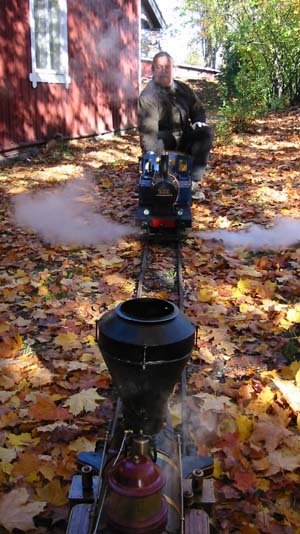 Of course, Veijo and I ran both the steam locos, since today may have been the last chance to do so, this year. There was ice on the ground after the night's frost, and as you can see, all the maples are shedding their leaves.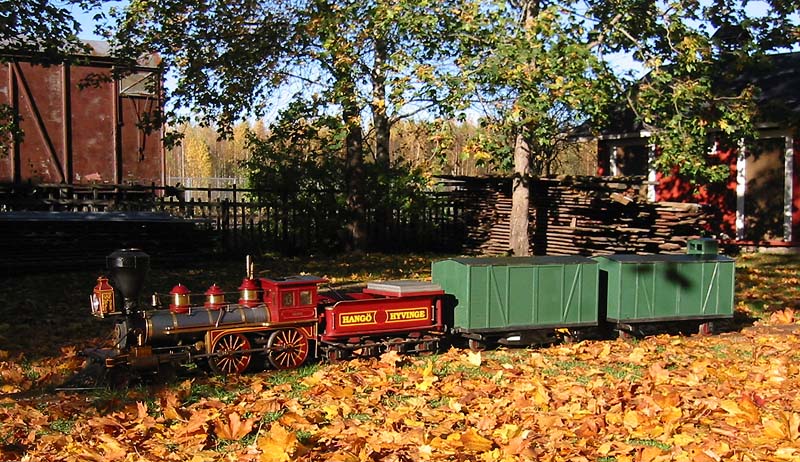 I still left the 3003 in storage at the museum, but took the 666 back to my Helsinki workshop, for some adjustments - lately, there has been some slight clicking sounds in the left hand motion, which will have to be taken care of.
With luck, I may be able to run a couple of more times this year, but you can never be sure about the weather, especially not here in southern Finland, which is at the same latitude as Anchorage, Alaska!
---
Close this window when you are ready...
Any information presented on this website (especially any do-it-yourself instructions) is given without any acceptance of liability for damage or injury - so, always remember: SAFETY FIRST!
The material on this page and its related pages is Copyright © 2001-2007 by J-E Nystrom. You may NOT copy, transmit and/or publish any of my images or texts in print, electronically, on your own website or in any other way. The author retains all rights to this work, with this sole exception: Storing the pages on your own computer or printing out a paper copy, for your own, strictly personal use is allowed.
You may, however, freely link to the "Building Live Steam Locomotives" page at: http://www.saunalahti.fi/animato/steam, or to my Animation Home Page at: http://www.saunalahti.fi/animato.
You should NOT link directly to THIS page, since it's address may change in the future. Also, you may not put any of these pages or pictures into "frames" on your own website.
Thank you.