---
APS image quality test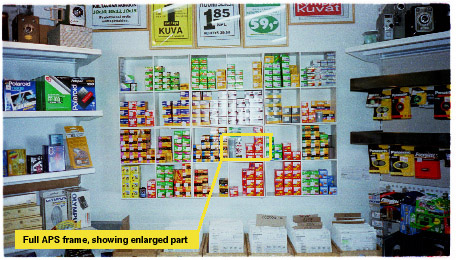 These two images show the entire negative as scanned with my Minolta Dimage Dual APS scanner. Note how I've marked the parts that are enlarged below. The difference in position of the edge images in the different cameras is just due to my hand held framing or camera finder error - what you see is the actual left edge of the negative, about 1/10 of the frame height below the top edge. I used Fuji A200 film for this test, so you see a little grain in the enlargements. But, hey, the edge softness of the lenses is worse (except in one case)...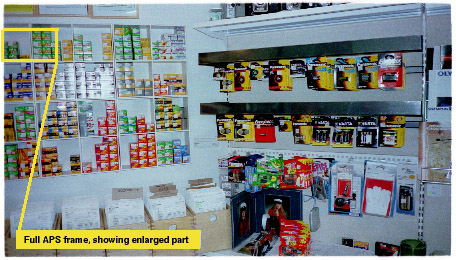 If your display is 72 dpi, these enlargements, scanned at 2400 dpi, represent a print 1000mm (40 inches) wide!
---
Fuji Fotonex 1000 (mini sized, metal "jacket", pull out cover):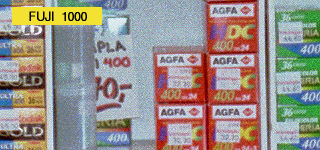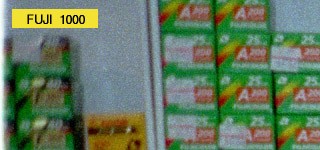 ---
Konica Revio, used at widest setting: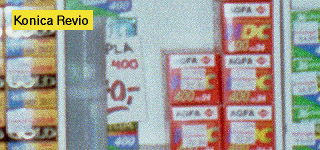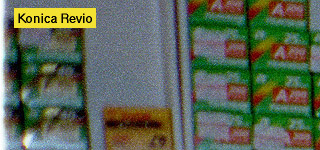 ---
Canon IXUS/ELPH L-1, similar to the original, first Canon (steel cover), but without zoom, and with plastic cover. There is a "bulgier" M-1, too, but this is the TINY one: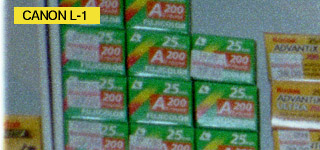 ---
And finally, the FUJI 3000, with zoom, here at its widest setting: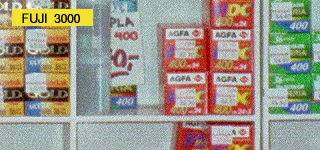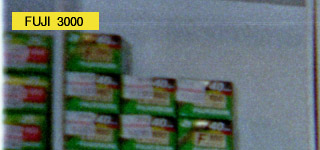 ---
As you can see, the zoom models have much worse resolution in the edge of the image.
For sharpness, I'd choose the Canon L-1 (I think the edge sharpness is exceptionally good!), for small size, the Fuji 1000. Also, the Fuji 1000 seems to have the best flash coverage, (or least lens vignetting), i.e. less dark corners than the other cameras.
I'm partial to the original Canon IXUS/ELPH 24-48 that I own, but if I had to choose between it and the two zooms, Konica Revio and Fuji 3000, I'd probably not change. On the other hand, the Fuji 3000 does have a wider lens, 21mm, so if wide angle is what you need, go for that model. Sizewise, the Canon and Konica zooms are just about the same, Canon a tad smaller.
I have used, and seen results from the bigger 4x zoom Canon 490, and while it is pretty good at wide angle, the tele performance was below par.