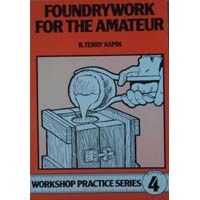 Foundrywork for the Amateur / B. Terry Aspin

Published by Nexus Special Interests Ltd (ISBN 0-85242-849-9)

I paid GBP 5.95

This is the first one (that I know ) of 'Chucks' foundry books. Anyone contemplating to do foundry work would do well to acquire both. Real value for money. Covers pattern making, preparing green sand moulds, melting, equipment, all of the procedure. Well presented and I especially like the hand draw illustrations by the author.