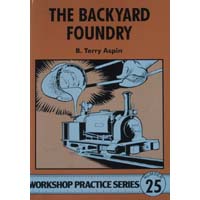 The Backyard Foundry / B. Terry Aspin

Published by Nexus Special Interests Ltd (ISBN 1-85486-146-8)

I paid GBP 9.95

This is the second one (that I know ) of 'Chucks' foundry books. Anyone contemplating to do foundry work would do well to acquire both. Pretty much the same information as in 'Foundrywork for the Amateur'', except a casual description of a gas furnace and a detailded description of a solid fuel crucible furnace. Again well presented, full of information, good coverage of the subject and those nice hand drawn illustrations.