Vintage pictures of the Baldwin 4-4-0s

This is the Baldwin 3154, sister engine to the 3003, renumbered 107 when it was bought from the bankrupt private Hango-Hyvinge RR by the Finnish State RR Co. in 1875. The engines were named, not numbered, when owned by the private company.
In 1887, all the Baldwin engines were once more renumbered, this one to no. 69. So, from the numbering it can be determined that this picture has been shot between 1875 and 1887. It is probably one of the very first photos of this engine, still in the livery of the private Hango-Hyvinge RR.
All these Baldwins were used for passenger, freight as well as mixed service. Their maximum possible speed was 80 km/h (50 mph), but the light track imposed a speed limit of only some 45 km/h (30 mph). They all ran a little over 1 million kilometers (600,000 miles) each, except the BLW 3151, which was scrapped after its frame was badly bent in a 1901 head-on collision, the first serious accident on Finnish rails.
Here's a list of the names and numbers these locomotives had during their operational years:
1872-1875
name
1875-1887
no.
1887-
no.
BLW serial no.
& build year
scrapped
in year
HYVINGE
101
63
2998 - 1872
1913
HANGO
102
64
3003 - 1872
1911
EKENAS
103
65
2999 - 1872
1911
PIPPING
104
66
3002 - 1872
1911
VON TRAPP
105
67
3151 - 1873
1901
PETROFSKY
106
68
3153 - 1873
1915
WINBERG
107
69
3154 - 1873
1912
JAKOBY
108
70
3155 - 1873
1913
ZILLIACUS
109
71
3156 - 1873
1918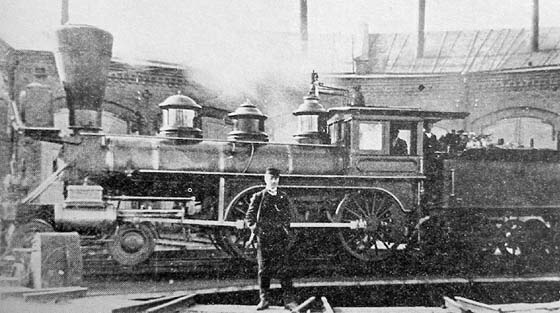 Steaming up in front of the roundhouse. This is a later shot (around 1900) than the one on top of this page, the original Radley-Hunter smokestack has been exchanged for a domestic one, not at all as impressive...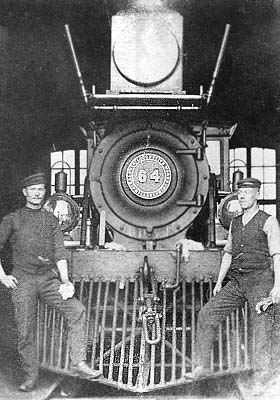 This is the actual 3003, renumbered, first to no. 102, later to no. 64. Engineer and fireman are proudly posing in front of it.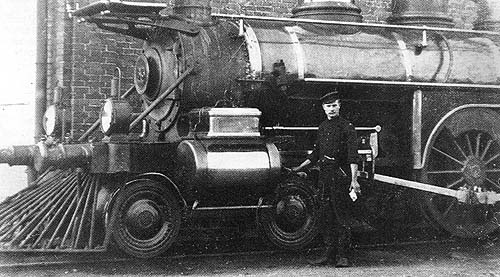 The brasswork was kept polished - the Baldwins were the flagships of the Hango-Hyvinge line for many decades.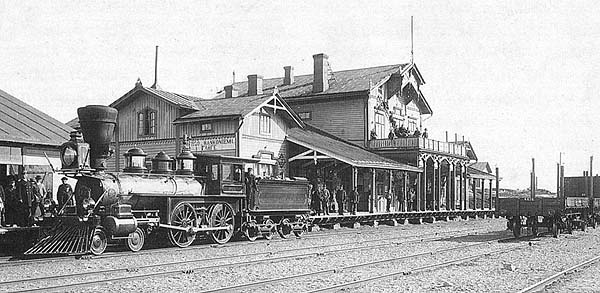 The Hango RR station in 1893. By this time, many changes had been made to the Baldwins, which had already seen 20 years of service: injectors had replaced the crosshead pumps, steam brakes were installed as well as new smokestacks, just to name a few examples.
Note the tri-lingual sign on the building: Swedish, Finnish and Russian. At this time, Finland was a Grand Duchy under the Russian Empire. We declared independency on December 6th, 1917, after the Russian revolution.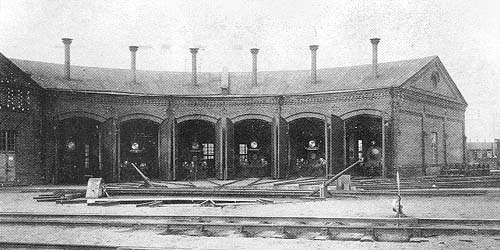 Five American Baldwins 4-4-0s, and a 0-6-0 Sigl made in Austria, can be seen inside the Hango roundhouse. This roundhouse was destroyed by the Russians in 1914. Below, a drawing of the Hango loco workshops in 1908: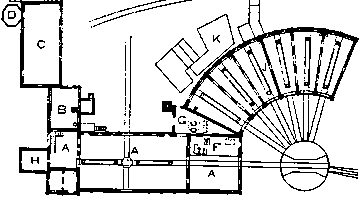 A = Workshops
B = Office
C = Blacksmith's shop
D = Pump house
F = Generator room
G = Boiler room
H = Foreman's office
I = Storage room
J = Roundhouse
K = Sheet metal shop

Nothing exists of these buildings anymore, nor of the Baldwins.
To my knowledge, only three large-scale models of the Hango-Hyvinge 4-4-0 Baldwins have ever been built:
a 1:10 scale, museum quality, non-operating model built by Emil Hakkinen at the State RR shops in 1917-1919, now on display at the Hyvinge RR Museum,

a 7 1/2" gauge live steamer based on generic Little Engine 4-4-0 parts, but in Hango-Hyvinge livery, built by Leonard Niemi in the US in the 1980s, and

my own 7 1/4" gauge live steamer, scratch-built in 2000-2002.
---
Close this window when you are ready...
Any information presented on this website (especially any do-it-yourself instructions) is given without any acceptance of liability for damage or injury - so, always remember: SAFETY FIRST!
The material on this page and its related pages is Copyright © 2001-2007 by J-E Nystrom. You may NOT copy, transmit and/or publish any of my images or texts in print, electronically, on your own website or in any other way. The author retains all rights to this work, with this sole exception: Storing the pages on your own computer or printing out a paper copy, for your own, strictly personal use is allowed.
You may, however, freely link to the "Building Live Steam Locomotives" page at: http://www.saunalahti.fi/animato/steam, or to my Animation Home Page at: http://www.saunalahti.fi/animato.
You should NOT link directly to THIS page, since it's address may change in the future. Also, you may not put any of these pages or pictures into "frames" on your own website.
Thank you.