Copying or re-publishing text or images without written permission is prohibited. You may only publish the URL address to this site.
---
OLLIE JOHNSTON's BACKYARD RAILROAD
The photos are Copyright © 1993 by J-E Nystrom. Copying of the images is forbidden.
IN MEMORIAM

OLLIE JOHNSTON

1912-2008


Ollie Johnston, veteran Live Steamer and the last of Walt Disney's "Nine Old Men", passed away on 2008-04-14.

I met Ollie the first time at the Disney Studio in 1976, and have visited him several times over the years. I treasure the correspondence we've kept up for over 30 years, discussing everything about steam and animation.

He was a dear friend, extremely talented, yet affable and modest.

He animated many of Disney's most beloved characters: Pinocchio, Bambi, Baloo, Bernard and Bianca, to name just a few.

He built a backyard railroad at his home in Flintridge, CA, where he ran three 1" scale engines, and he also restored and ran a full-size narrow-gauge Porter engine on his property in Julian, CA.

We miss him!
May he rest in peace.
Ollies loved treasure, the full-size narrow gauge engine, named "Marie E." was sold to John Lasseter, the CEO of the PIXAR animation studio, famous for "Toy Story" and "Monsters, Inc.". Don Young made designs in 1" and 1-1/2" scale of this Porter engine, and many live steam models have been built of it.
The pictures below were shot during an unforgettable trip to California in 1993 - Ollie let us ride on his train (and even drive!)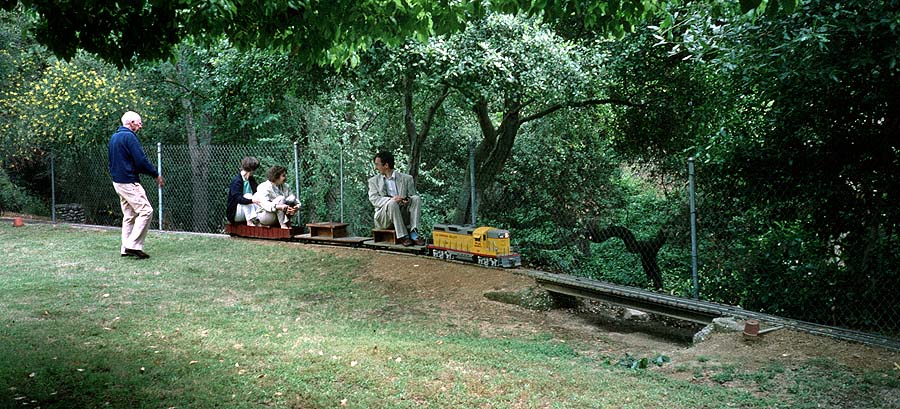 The lush surroundings made the experience even more exhilarating.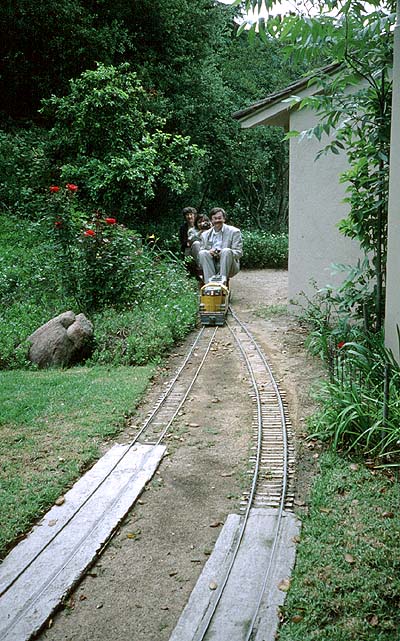 Note how the track bed changes in front of the house - for most of the loop, there are wooden crossties under the track, but in front of the house, there is a concrete foundation for the rails.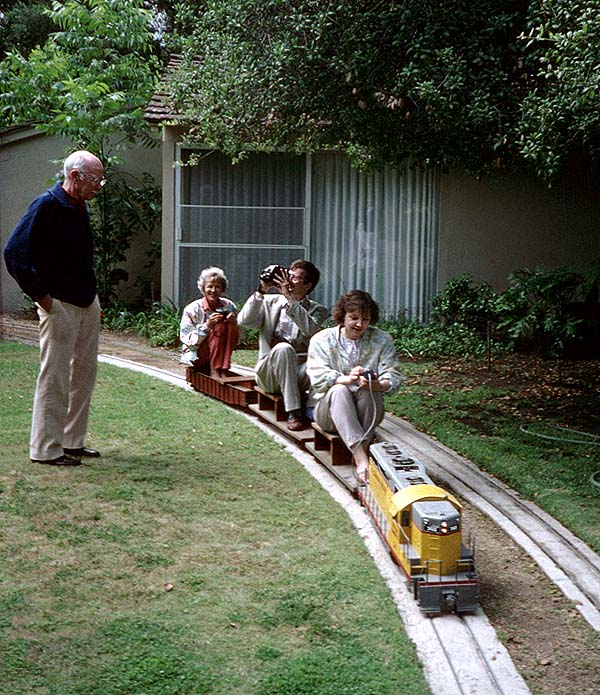 My girlfriend trying out the battery-operated diesel loco. Is Ollie worried, or what? Marie, Ollies wife is "playing caboose"...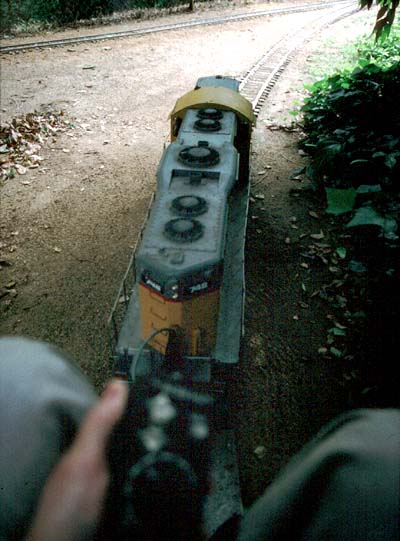 A driver's view of the engine, coming out from the shade under the trees into the California sunlight...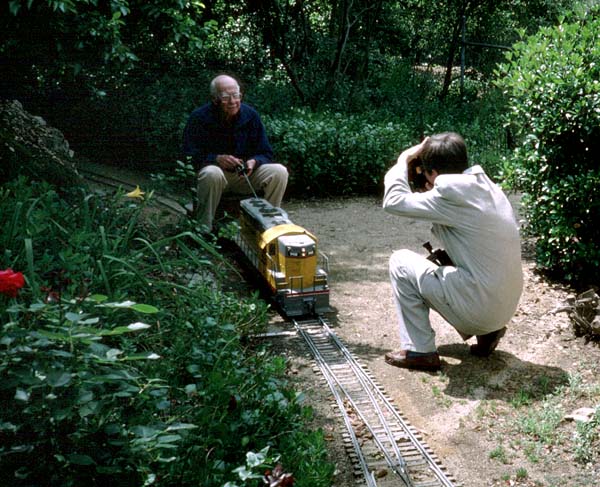 Shooting a picture of Ollie, proudly posing on his engine.
The picture turned out thus: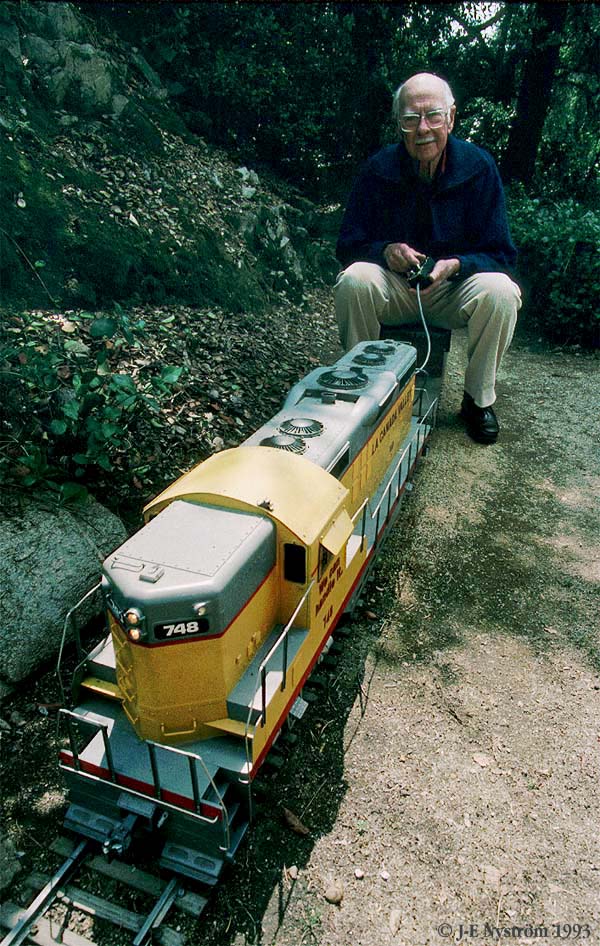 He also has two miniature steam locomotives (pictures below taken on an earlier trip in 1989). One is a Shay-type engine, which is interesting becauce the pistons are vertical, rotating a drive shaft that powers all the wheels: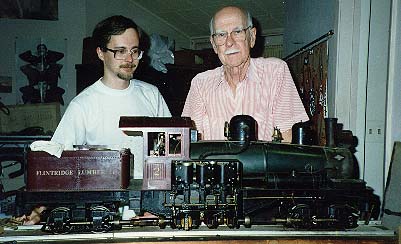 Here's his other miniature steam engine, a Pacific, built in 1949 by Lawrence Hiney: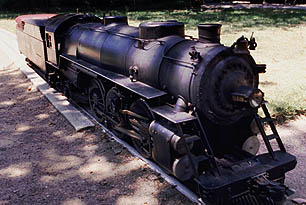 It would have been too much of a hassle for Ollie (born in 1912) to fire up the live steam locos just for us, but he did roll them out onto the track. I was very happy indeed to see them and take pictures of them.
The following images were captured with a video input PC-card in a Mac Powerbook G3, from a VHS tape:
THIS VIDEO IS NOW AVAILABLE ON YOUTUBE!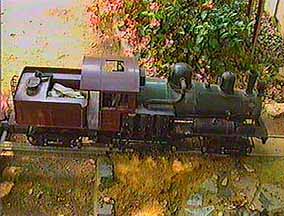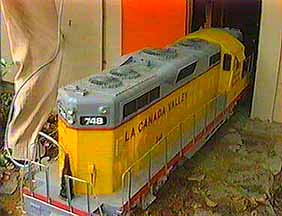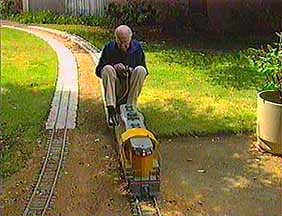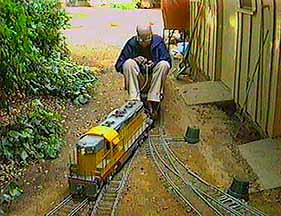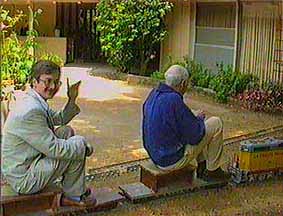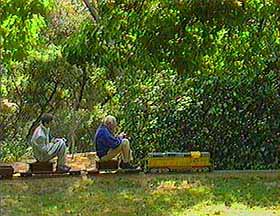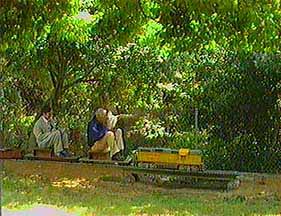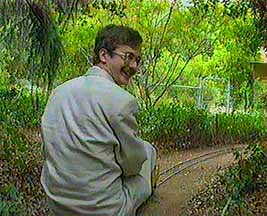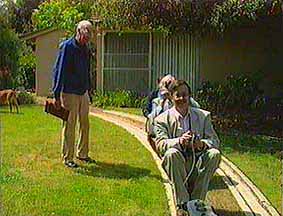 ---
If you came from one of my websites, close this window to return.
If not, welcome to visit:
my ANIMATION website
my LIVE STEAM website
---
Counter zeroed 2005-05-29