Building Miniature Live Steam Locomotives in 1/8 scale
The "project" links below will open new index windows,
each with a multitude of pages describing the construction of the locos!
Close the new window(s) to return to this main index page.
The Baldwin 3003

A "Vr1" Class 0-6-0 Finnish switcher

Everything else...

Building a Live Steam locomotive from scratch
using CAD and laser cutting technology


NEW PROJECT! A 4-6-0 "Ten-Wheeler"
Join us for a ride with the "666":
Text & images Copyright © 2000-2007 by J-E Nyström, Ulvilantie 2, FIN-00350 Helsinki, Finland
Copying, distribution or any commercial usage prohibited.
Contact info:
ANIMATO J-E Nyström, Ulvilantie 2 A 9, 00350 Helsinki, Finland
You can send me a message by using what you see in the smoke: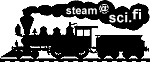 ---
NOTE: This site is not maintained anymore. It may contain dead links, missing images etc. Sorry about that! Last check/update: March 23, 2012

Many thanks to the volunteers who have agreed to host this mirror of my original, now defunct site!

The "legal stuff":

NOTE: All information, i.e software, text & images, on this "Animato" animation and Live Steam site is Copyright © 1996-2012 by ANIMATO J-E Nystrom, except where otherwise noted. All rights reserved. The author has not knowingly violated any copyrights, however, some images are from other sources, and included under the "fair use" assumption. If a copyright holder objects to material included on this site, either an on-screen credit will be provided (or an existing one corrected), or the image will be removed. Material found on this site (this page and subsequent pages in the animato directory) may not be published, transferred or distributed in any way without written permission from the author. You MAY publish the page internet address as a link.

The facts and contents on this website are obtained from sources which are believed to be reliable. However, the author of the site assumes no legal liability of any kind for the information contained herein nor for conclusions drawn by any party from it.

WARNING:

All information presented on this website (especially any do-it-yourself instruction) is given without any acceptance of liability for damage or injury - so, always remember: SAFETY FIRST!

Linking information:

Even though linking to the ANI-MATO site is encouraged, you are NOT allowed to publish links directly to the individual sub-pages of this site. Reason: This site uses "frames", and a link to a sub-page will not include any table of contents, making it impossible to navigate this site. Also, you are expressly forbidden to link to the ANIMATO site, be it pages, text or images, from within your own webpages using "frames". Instead, link ONLY to the main page and MENTION, in your TEXT, all the goodies you wish people to know about! Thank you!