ANI-MATO J-E Nystrom, Ulvilantie 2 A 7, FIN-00350 Helsinki, Finland
E-mail:animato@sci.fi
NOTE: In order for me to avoid spam,
you will get an auto-reply "challenge" when using this e-mail address,
and will be asked to re-send your message to a new address.
Sorry for the inconvenience!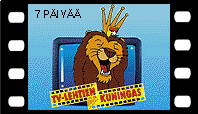 My Mickey "ears" are table tennis raquets!

Hi - I'm Jan-Eric Nystrom, a Finnish professional animator, making animated cartoons (mostly for commercials - see samples in filmstrip at right), also title & special effects sequences for feature film , animation for documentaries, time-lapse movies, clay animation (for instance, a clay chicken!), and whatever a freelance animator in a small country is required to do (even a 3D movie!)... See the filmography. Years ago, I studied at the Helsinki University of Technology, and was active in their movie club "Montaasi", where we made a 16mm "scope" (i.e. anamorphic wide-screen) film on how to make an animated film...


In 1975, I began working in my own studio. Over the years, I have acquired all the necessary 35mm/16mm equipment, and I'm used to construct whatever is necessary for a project. I have built single frame motors for 35mm and 16mm, intervalometers for time-lapse shooting, a densitometer,, modified 16 mm cameras to shoot in Super-16, built motion control equipment for animation stands, and a personal pencil testing system for the Macintosh, the ANIMAC. (Pencil Tests are often also called Line Tests, especially in Europe.) This system is used in many animation studios, by animators working in the classic "Disney style" of animation, i.e. drawing hundreds, or even thousands, of drawings by hand. Unfortunately, I have discontinued supplying ANIMAC.

But, I will share with you some of the things I've had to "invent" and/or build, in order to work effectively. In animation, as well in other professions, gadgets are often very important. So, here are a few

Do-It-Yourself Projects:



I've included illustrated instructions on how to build your own single-frame motor for a Bolex 16mm camera - the very first thing I did back in 1969, when I started in animation. It is really not that difficult - if you have some basic tools and a soldering iron, you can do it!


You can easily build a simple stand for shooting animation. It is suitable for a Super-8 or 16mm camera. It has no fancy movements, but it will help you get started with your own animation productions. Simple clip-on lamps are used for illumination. This stand won't cost you much...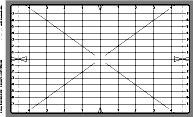 Also, you can make a very accurate viewfinder reticle for your Bolex (or most any other 16mm or 35mm camera) by downloading a Field Guide, prepare a high contrast frame of it, and attach it on the ground glass of your camera. Also, I have prepared a guide to the different cut-off areas that one has to consider when compositing an image for wide-screen or TV presentation.
Check my tips for cheap Ball Joints for stop-motion figures, and some other info on clay animation, as well as tips on scanning and painting animation electronically...
Note: In addition to the DIY projects I present here on my own www pages, there are many more available on the web. Speaking of DIY things, many animators have their own railroads. I have built four locomotives myself, in 1:8 scale. See the LIVE STEAM PAGES.

I have also published a list of useful books about animation, with short rewievs.
Since I'm interested in film and photo history, I've prepared pages on ancient photo stuff and a history of film formats. There are pages about APS and panoramic photography, too, as well as movie camera "movements".
I have a small collection of Disney and Zagreb Film Original Art. Feel free to have a look!
Here you can see the suburb where I live, some 5 km northwest of downtown Helsinki. I love the parks and the patches of wild forest that still exist around here. The arrow points to the apartment building where I have both my studio and home - I don't have to travel far to get to work! The film labs and the broadcasting centers are just 5 min. away by car in non-rush hours...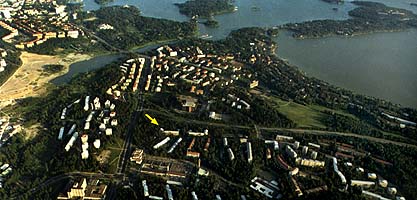 If you do not see a scrolling table of contents on the left, please go back to the HOME PAGE.